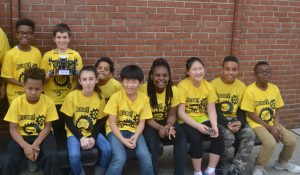 A robotics team from Berry Elementary School, the STEMtastic Jaguars, will represent Charles County Public Schools (CCPS) next month at the 2017 VEX Worlds – VEX IQ Challenge Elementary School Division competition. The team is one of only four Maryland elementary school teams that qualified to compete in the event, planned for April 23-25 in Louisville, Ky.
Students on the team include fourth graders Julien Carmona, Isabella Caudill and Jonathan Parham and fifth graders Elias Bend, Joshua Hong, Jessica Nam, Jaxon Rhea, Jhordyn Robinson, Jeremiah Severe and Caleb Terrell. Coaches of the team include Berry teachers Robyn Cataldo, April Davis, Jacob Gerding and Donna Strickland.
The students travel to the world event next month after earning the fourth-place spot in cumulative skill rankings among Maryland VEX IQ elementary school robotics teams. This is the first year the STEMtastic Jaguars team has participated in the VEX IQ Challenge.
At the state competition held Feb. 25, the team earned the Sportsmanship Award which honors student teams that earn the respect and admiration from volunteers and other competing teams during the event. Teams are chosen for being courteous, helpful and respectful, and demonstrating excitement and enthusiasm throughout the competition.
The team also was honored with the Judges Award at the Southern Maryland VEX IQ Challenge held Feb. 11 at Great Mills High School in Calvert County. This award recognizes a team chosen by event judges in recognition of exemplary effort and perseverance at the challenge, as well as recognizes the team's accomplishments throughout the competition season.
In the VEX IQ Challenge, matches are played on a field featuring scoring zones, low- and elevated-goal areas and a bridge in the center of the field. The object of the game is for teams to maneuver hexballs, which are used as scoring objects, on the playing field using their robot to attain the highest score. Teams must also park and balance robots on the playing field bridge.
Visit https://www.robotevents.com/robot-competitions/vex-iq-challenge for more information about the VEX IQ Challenge.