First Time for Men's Basketball Team to Win Regional Tournament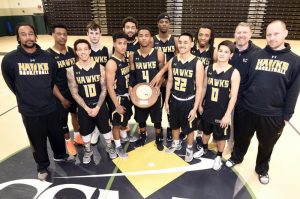 For the first time in the history of the College of Southern Maryland, the CSM Hawks have won the Region XX Division II Men's Basketball Championship, held March 10-12 at Garrett College. CSM now advances to the NJCAA Division II National Championship, in Danville, Illinois, March 21-25.
"This team had the right guys at the right time," said Head Coach Alan Hoyt. "I knew we had a talented team from the beginning."
The Hawks started the year with a tough schedule, playing five nationally ranked teams out of its first six games. But the team learned from that experience, Hoyt said. "We were able to see what it took to be the best … This team became close and learned how to use those early and late-season losses as motivation to continue to improve."
"CSM is thrilled to have won the Region XX Championship for the first time in school history and enter the NJCAA Men's National Basketball Tournament as one of the top 16 programs in the country," said Michelle Ruble, CSM director of student life and athletics. "We are proud of Coach Alan Hoyt and our team and look forward to cheering them on next week as they take the court at Danville Area Community College in Illinois."
At the Region XX Division II Championship, the #6 seeded Hawks won 94-63 over the #3 seeded Community College of Baltimore County Dundalk in the first round, followed by two close games, 75-71 over Frederick Community College in the second round and, for the tournament championship, 76-74 over Cecil College.
Two Hawks were particularly honored for their play — Sean Scott of Waldorf, forward, was named to the All-Tournament Team and David Francis of Brooklyn, New York, forward, was named the Tournament MVP.
The CSM team also includes Ryan Stearns of Leonardtown, Trevon Porter of Lexington Park, Anthony Williams of Waldorf, Antonio Tavares of Chesapeake Beach, Levon Randall of Waldorf, Dominic Espeleta of Waldorf, Shawn Ortiz-Robinson of Waldorf and Jordan Battle of Waldorf. This is Hoyt's 10th year as head coach for the team. Assistant coaches are Burton Moody and Daniel Richards.
At the championship, the Hawks are slated to play the No. 1 seed, Southwestern, at 11 a.m. on March 21. For fans to access the website for tournament bracket, ticket prices and more, visit www.dacc.edu/njcaa. All tournament games will be broadcast free through NJCAA TV. Games are both audio and video. Go to www.dacc.edu/njcaa for the link to www.njcaatv.com.
For more on the CSM Hawks, visit http://athletics.csmd.edu/sports/mbkb/index.