Taste of Solomons is a one-day food festival showcasing the many wonderful places to eat in this lovely waterfront community.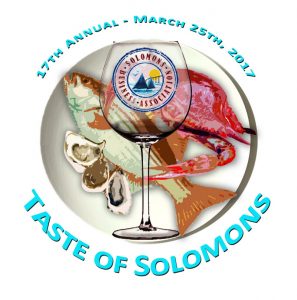 The Solomons Business Association hosts the annual Taste of Solomons event usually from 11 am to 4 pm., this year the event will be held on March 25th, 2017.
Restaurants and Shops Offer Tastes of Fine Food and Beverages
New tastes abound in the historic Solomons Town Center as restaurants showcase selected food and beverages during the one-day food festival, The Taste of Solomons 2017 from 11am to 4pm, Saturday, March 25th. The event is one of the yearly signature events designed and sponsored by the Solomons Business Association, with proceeds to benefit the association's annual July 4th fireworks display.
The Taste of Solomons provides the community a way to sample and enjoy a waterfront town during the spring season, according to Taste of Solomons Co Chair Christopher Donaldson.
Tickets are $4 each and may be purchased at any of the participating businesses. Each ticket can be exchanged for a sample of selected food or beverages. Many restaurants are also participating in a Gift Certificate Prize program, with some of the tickets at each location designated as prize winners. The lucky purchaser will be awarded a gift certificate for future use at the respective restaurant.
This year's participating businesses are: Island Hideaway, The Ruddy Duck, Boomerangs Original Ribs, EZ Thai Too, Captain Smith's Seafood Market, Angler's Seafood Bar and Grill, Dry Dock at Zahniser's, Back Creek Inn Bed & Breakfast, Kingfishers Seafood Bar and Grill, Striped Rock, carmen's gallery, The Pier, Lighthouse Restaurant and Dock Bar, Lotus Kitchen/Kim's Key Lime Pies, Grill Sergeant Barbecue, Charles Street Brasserie, Annmarie Sculpture Garden and Arts Center, and the Calvert Marine Museum.
Tickets will also be available at Berkshire Hathaway McNelis Group Properties across from the gazebo in Solomons Island. This location will also have credit card machine for purchasing tickets.
This is truly a wonderful way to kick off the coming season, and proceeds benefit the Solomons Business Association's annual July 4th Fireworks Display! So bring your family and friends to enjoy Solomons' food and beverages. Help keep our Fireworks display a glorious tradition enjoyed by all!
Please watch for further information on public parking in Solomons. We ask you kindly to please park in designated areas, and respect private property.
For additional details, and opportunities to sponsor this event contact Co Chairs Chris Donaldson443-722-5955 or Charles Chappell 240-577-1002 of Island Hideaway.
Taste of Solomons 2017
For menus & map of participating restaurants & businesses please download PDF below.