Other county historic locations featured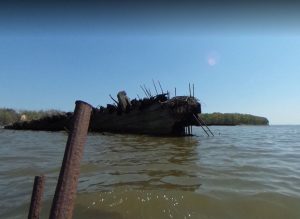 Travel back in time to World War I and experience interactive programs highlighting Mallows Bay at the Discover Quest: World War I Commemoration Weekend from Friday, April 21 to Sunday, April 23. The special event commemorates the 100th anniversary of the United States entering World War I.
Program Schedule:
Friday, April 21
College of Southern Maryland (8730 Mitchell Road, La Plata), BI building, Rooms 113 and 114
6 p.m.-8 p.m.
Free admission
Art exhibit by Charles County Public School students.
World War I informational panels.
Engaging presentation by underwater archaeologist Don Shomette.
Saturday, April 22 
Mallows Bay Park (1440 Wilson Landing Road, Nanjemoy)
9 a.m.-Dusk
Free admission
Guided kayak tour through Mallows Bay, a site renowned for the remains of more than 100 wooden steamships, known as the "Ghost Fleet." Guided kayak tours are $40 per person for a 1.5 hour tour. Register for kayak tours online at http://bit.ly/2lSpWAy or call 301-292-6455 for more details.
Guided bird tours at 10:30 a.m. and 1 p.m.
Fossil dig
Knot demonstrations
Archaeological interactive programs
Sunday, April 23 
Various Charles County locations will offer World War I and other historic interactive programs:
Rich Hill Historic Site (Rich Hill Farm Road, Bel Alton)
10 a.m.- 4p.m.
Open house featuring re-enactors, Civil War encampments, archaeological digs, and historical displays.
Mattawoman Creek Art Center (2750 Sweden Point Road, Marbury)
11 a.m.-4 p.m.
Mixed media World War I art display.
Maryland Veterans Museum at Patriot Park (11000 Crain Highway, Newburg)
11 a.m.- 4p.m.
Display honoring those who fought on the World War I battlefields and those who served in support of them.
Dr. Samuel A. Mudd House (3725 Doctor Samuel Mudd Road, Waldorf)
Noon- 4 p.m.
Guided tour of the famous house, known as the site John Wilkes Booth stopped after he assassinated former President Abraham Lincoln. Tours cost $7 for ages 13 and up, $2 ages 6-12, and free for 5 and under. Tours depart every 30 minutes.
McConchie School House and Fairgrounds Farm Museum (8440 Fairgrounds Road, La Plata)
10 a.m.- 3p.m.
Tour of the historic one-room school house and learn about Charles County education during World War I.
For more information, visit www.CharlesCountyMD.gov/DiscoverQuest. Citizens with special needs may contact the Maryland Relay Service at 711, or Relay Service TDD:  800-735-2258.