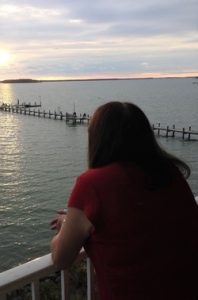 Michelle McBride, 52, of Hollywood, MD passed away March 14, 2017 at MedStar Washington Hospital Center in Washington, D.C., with her loving family at her side.
She was born September 21, 1964 in Binghamton, NY to Mary Jacqueline Mills of Binghamton, NY and the late Richard Mills.
Michelle earned her Associate of Arts degree from Antelope Valley College in Lancaster, CA and then her Bachelor of Science from University of Maryland University College in Program Management. On December 17, 1994, she married her beloved husband, Mark Allen McBride in Lancaster, CA. In 1997 they escaped the High Desert of California and built their lives in Southern Maryland. Together they celebrated over 22 wonderful years of marriage. They enjoyed travelling overseas with their jobs and saw many countries. Some of her favorite destinations were Turkey, Germany, Italy, South Korea and Finland. She was employed as a dedicated Program Manager for NAVAIR for over 20 years and won numerous awards for her service. She loved her work and the people she worked with. Michelle's passion included wine, cooking and music. Michelle and Mark enjoyed many concerts in the area. She also enjoyed annoying her husband by watching Reality TV. Her family was her greatest love, and she enjoyed spending time with them. As a Momma Bear, she was especially close with her daughters and grandchildren. She was a member of St. John Francis Regis Catholic Church.
In addition to her mother and beloved husband, she is also survived by her daughters: Mishealah "Shea" McBride of Laurel, MD, Margaret "Maggie" McBride of Hollywood, MD and Madison "Maddie" McBride of Hollywood, MD; her sister, LeeAnne Whitson of Binghamton, NY and her grandchildren, Liam McBride and Quinn Howland. She is preceded in death by her father and brother, James Patrick Mills.
Family will receive friends on Monday, March 27, 2017 from 10:00 a.m. to 12:00 p.m., with a Memorial Mass celebrated by Reverend Raymond Schmidt at 12:00 p.m., at St. John Francis Regis Catholic Church, 43927 St. John's Road, Hollywood, MD. Interment will be private.
Memorial contributions may be made to Washington Regional Transplant Committee, 7619 Little River Turnpike, Suite 900, Annandale, VA 22003. Or at www.BeADonor.org
Arrangements by the Brinsfield Funeral Home, P.A.