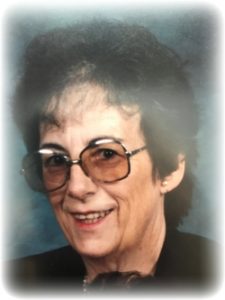 Teresa Adoremarie Kane, 80, of Leonardtown, MD died Saturday, March 18, 2017 at her home unexpectedly from natural causes.
Teresa Adoremarie Summers Kane was born March 7, 1937, in Philadelphia, PA, the daughter of the late Charles Farren Summers and Helen Antonio Summers. She was united in marriage to James Alfred Kane, Sr. on December 29, 1956 in Philadelphia, PA. He preceded her in death on December 10, 1979. They were married for 24 years. Mrs. Kane retired from a government job in 2002. She enjoyed baking, crocheting, reading, and doing puzzles. Mrs. Kane was a loving wife, mother, grandmother and will be dearly missed; a wonderful woman, a beloved angel.
She is survived by four children, James A. Kane, Jr. and wife Karen, of Taneytown, MD, Victoria Kane-Perry, Sandra Kane Varesko, and Mitch Kane, all of Leonardtown, MD, grandchildren, Marc Muller, of Colorado, Katerina Kane Ford and husband Derek, of NC, Anastasia Kane, of Taneytown, MD, Gladys Smith, of Avenue, MD, Joseph Perry, Lara Perry Boyden and husband Glendon, of Leonardtown, MD, Jonathan Varesko, Christopher Varesko, Erica Varesko, Elizabeth Varesko, and Steven Varesko, all of Leonardtown, MD, nine great grandchildren, and a sister, Helen Holloman, of PA.
In addition to her husband, she was preceded in death by a granddaughter, Jennifer Kane Varesko; her parents, Charles and Helen Summers, and a sister, Margaret Summers.
Services will be held at a later date.
Arrangements by the Brinsfield Funeral Home, P.A.