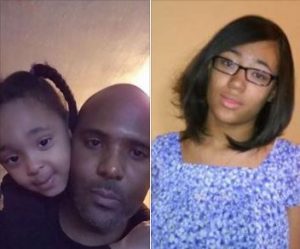 UPDATE 3/23/2017 @ 10:25 a.m.: Charles County Sheriff's detectives have released additional information relating to the domestic-related quadruple shooting that occurred on March 23, 2017.
At 8:07 p.m., officers responded to 3305 Westdale Court in Waldorf for multiple calls for the sound of gunshots and a shooting. When officers arrived, they found a woman, 36, outside with multiple gunshot wounds. They received information that the shooter – the woman's husband – was inside along with their two children. Officers made a quick, tactical entry and immediately found the suspect, c 37, of that address, deceased on the living room floor; a gun was beside him and he had an apparent self-inflicted gunshot wound.
Officers continued searching the house and located the couple's daughter, Laila Goodwin, 4, in an upstairs bedroom; she was deceased. Another daughter, Lashelle Goodwin, 17, was located in the upstairs bathroom suffering from several gunshot wounds. She was flown to a hospital where she later died. Their mother was flown to a hospital with serious injuries.
The initial investigation revealed Goodwin shot his wife and daughters and then turned the gun on himself. Investigators are working to establish a motive, but at this time it is unclear what prompted the shootings. Det. J. Elliott is investigating.
UPDATE 3/24/2017 @ 8:55 a.m.: The juvenile female who was shot during a domestic-related quadruple shooting on Westdale Court on March 23 was pronounced deceased late last night; she was 17-years-old. Her name, as well as the other victim and suspect's name will be released when all next of kin have been notified.
UPDATE 3/23/2017 @ 11:30 p.m.: On March 23, 2017, at approximately 8:15 p.m., officers from the Charles County Sheriff's Office responded to the 3300 block of Westdale Court, in Waldorf, for the report of multiple shots fired.
Upon entering the residence, officers located an adult male who was deceased. As officers further searched the townhome, they located a young female child who was also deceased, and two additional females, one who appeared to be a teenager and one adult, suffering from gunshot wounds.
Both the teenage and adult females were flown out to an area hospital in critical condition.
Officers also located a gun near the deceased man.
This appears to be a domestic-related incident. The investigation is ongoing, and the victims' identities will be released once next of kin have been notified.
Anyone with information is asked to call Det. J. Elliott at (301) 932-2222  or (301) 609-6515. Tipsters wishing to remain anonymous may contact Crime Solvers by calling 1-866-411-TIPS, texting CHARLES + the tip to CRIMES (274637) or submitting tips online at https://www.tipsubmit.com/webtipsstart.aspx.
A $1,000 cash reward is being offered for the tip that leads to an arrest in this case.
UPDATE 3/23/2017 @ 9:55 p.m.: At least 4 shot. One adult male and one toddler deceased. Two females flown out, one juvenile and one adult.
3/23/2017: On Thursday, March 23, 2017, Deputies from the Charles County Sheriff's Office responded to a domestic-related shooting on Westdale Court, in Waldorf.
Four people have been shot,
The Waldorf Volunteer Fire Department reported an adult male and a child were pronounced dead at the scene.
A helicopter  has been requested to the scene to transport two victims to an area trauma center.