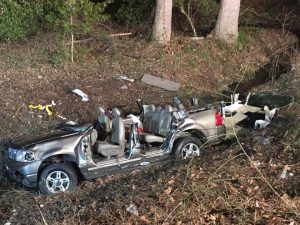 On March 24, 2017, at approximately 4:15 a.m., officers with the Charles County Sheriff's Office Traffic Operations Unit responded to the 11400 block of Edge Hill Road in Newburg for the report of a single-vehicle accident.
Upon arrival, officers located the vehicle, which had gone down an embankment and overturned. The vehicle had five occupants, two females and three males.
Four of the occupants were flown out to area hospitals, and one occupant was transported by ground to a nearby hospital.
All five occupants are expected to survive. Initial investigation reveals that the driver swerved to avoid hitting a deer. It does not appear that alcohol or drugs were a factor.
Pfc. C. Collins is investigating.