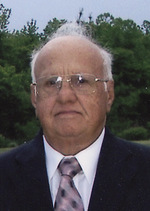 Robert "Bob" Mattei, Sr, 86, of Leonardtown, MD, formerly from Locust Grove, VA, passed away on March 20, 2017 in Washington, DC. Born on July 23, 1930, in East Haven, CT, he was the son of the late Aurelia Clara Mattei and Pasquale Mattei. Bob was preceded in death by his first wife Rita Mae Freeman Mattei whom he married on December 18, 1948 and passed away on June 29, 1990.He was the loving husband of Mary Lou Ching Mattei whom he married on January 17, 2002 in La Plata, MD. Bob is survived by his children: Richard M. Mattei of McKinney TX, Russell M. Mattei of Odenton, MD, Ronald M. Mattei of Gambrills, MD, Robin M. Beard of Davidsonville, MD, 12 grandchildren, 19 great grandchildren. He was preceded in death by his sons; Robert M. Mattei, Jr, and Raymond M. Mattei Siblings: Louis P. Mattei, Edward P. Mattei and Gloria L. Borrelli. He graduated from New Haven, CT. and Coyne Radio & TV School. Bob served in the United States Navy from 1947 to 1950 as a Internal Communication Technician, He moved from Locust Grove, VA to St. Mary's County, MD in 2000. Bob was a Network Maintenance Manager for Bell Atlantic for 35 years retiring on March 15, 1985. He enjoyed boating, gardening, carpentry, and real estate. He was an avid reader, and followed the stock market and business world. Bob belonged to the Southern Maryland Telco Pioneers, Moose Lodge, American Legion, was a Lion's Club charter member Crofton, MD. He helped with St. Mary's Nursing Center bingo in Leonardtown, MD.
The family will receive friends on Monday, March 27, 2017 from 5:00 PM – 8:00 PM with prayers recited at 7:00 PM in the Mattingley-Gardiner Funeral Home, P.A. Leonardtown, MD. A Mass of Christian Burial will be celebrated on Tuesday, March 28, 2017 at 10:00 AM in Our Lady's Church Leonardtown, MD with Father John Nguyen officiating. Interment will follow in Charles Memorial Gardens Leonardtown, MD. Pallbearers will be: Ronald Mattei, Jr., Joshua Mattei, Jeffrey Beard, Jr., Richard Mattei, Jr, Tony Norris, and Gary Norris.
Contributions may be made to Leonardtown Vol. Fire Department P.O. Box 50 Leonardtown, MD 20650 and/or Leonardtown Vol. Rescue Squad P.O. Box 299 Leonardtown, MD 20650.