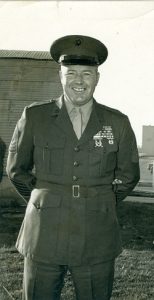 Clifford Craig Blend, 88, of Manning, South Carolina passed away peacefully on March 19, 2017. He was born on March 13, 1929 in Bellwood, PA to the late Charles Edward and the late Beatrice Ethel Blend.
In 1948, Clifford married the love of his life Beverly Jean Meader. He spent 30 years in the Marine Corps. During this time he served in every military conflict to include Korea, Cuban Missile Crisis and Vietnam. He retired in 1968 and later became a member of the P.G. Sheriff Department. Clifford was a pilot, certified plane inspector. He had the pleasure of playing the trumpet for the Marine Corp band and the Redskins band. He enjoyed mechanics, building planes and building remote control airplanes.
Clifford is preceded in death by his loving wife, Beverly Blend, his late sons Clifford "Craig" Blend, Jr. and Wilbert "Bud" Blend. He is survived by his daughters, Sharon L. Payne, Janice E. Thomas (Jeffrey); his son David K. Blend; his sister, Naomi Stratton. In addition he is survived by his 14 grandchildren and 8 great-grandchildren.
The family will receive friends for Clifford's Visitation at Hughesville Baptist Church, 8505 Old Leonardtown road, Hughesville, MD 20637 on Monday, March 27, 2017, from 2 – 4 pm and 6 – 8 pm. The Funeral Service will be held at Hughesville Baptist Church, 8505 Old Leonardtown Road, Hughesville, MD 20637 at 10:30 am. Interment will follow at Trinity Memorial Gardens, 3221 Mattawoman Beantown Road, Waldorf, MD 20601.