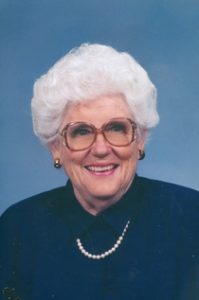 Mary Ellen Gardiner Mister Starkey passed away March 21, 2017 at the age of 94.  Retired teacher in Charles County after 32 years, she graduated from Sacred Heart School and Mary Washington College.
Mary Ellen was a member of Sacred Heart Church Sodality, Catholic Daughters Court Neale #753 and Restorers of Mount Carmel.  She was also a charter member of Court of St. Peters #1618 of the Catholic Daughters.
Born on December 5, 1922 in Prince George's County, she was the daughter of Joseph Cecil Gardiner, Sr. and Bernadette Norris Gardiner.
She was preceded in death by her brother, Joseph Cecil Gardiner, Jr.; her son, Stephen C. Starkey and her husbands, Howard Leroy "Jack" Mister and Jesse L. Starkey.
Mary Ellen is survived by her sons, Joseph Donald "Donnie" Mister (Marta) and Gregory Wayne Starkey (Ann); her daughters, Marianne M. Fernandez, Anita Scherer, Pamela S. Brown and Janice M. Earnshaw; 19 grandchildren and 18 great-grandchildren.
Visitation will be held on Friday, March 24, 2017 from 2-4PM at Sacred Heart Catholic Church (201 St. Mary's Ave., LaPlata, MD) and from 6-8PM at Arehart-Echols Funeral Home (211 St. Mary's Ave., LaPlata, MD) with Prayers at 7PM.  A Funeral Mass will be held on Saturday, March 25, 2017 at 1PM at Sacred Heart Catholic Church; Interment to be held at a later date at St. Peter's Catholic Church Cemetery.  In lieu of flowers, donations can be made in Mary Ellen's memory to Starkey Scholarship Fund (PO Box 2770, LaPlata, MD 20646) and Carmel of Port Tobacco (5678 Mt. Carmel Rd., LaPlata, MD 20646-9611).  Online condolences to the family can be found at arehartechols.com.