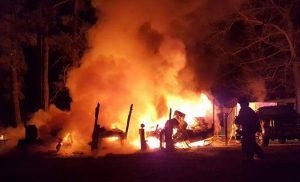 On Friday, March 24, 2017, firefighters from Second District Volunteer Fire Department, and neighboring departments were alerted to report of a travel trailer fire on Dennis Point Way, in Drayden.
Crews arrived on scene to discover a 33 foot camper at Dennis Point Marina with heavy fire showing.
The fire was determined to be accidental as a result of a faulty extension cord located on the back side of the RV.
No injuries were reported. The two occupants were able to escape; however two dogs perished as a result of the fire.
The fire destroyed the RV, it's contents, and a vehicle located next to the RV.
Damage to the structure, contents, and vehicle was estimated at $120,000