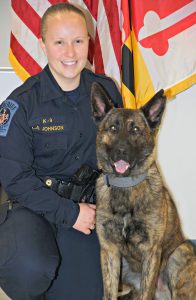 Sheriff Tim Cameron announces a new member to the St. Mary's County Sheriff's Office family: a 15-month-old Dutch Shepherd, Brix, which has been assigned to work with Deputy First Class Lacey Johnson. Brix was imported from Slovakia.
Johnson and Brix are in a 16-week basic K-9 handler course that started in February. After the completion of the course, Johnson and Brix will become certified in Patrol and Narcotics Detection.
"The K-9 Unit is an integral part of the agency, helping patrol deputies on the streets: detecting explosives and narcotics, searching for missing persons and apprehending fleeing criminals," said Sheriff Cameron. "The teams are a valuable law enforcement tool that saves lives and helps to improve the overall efficiency of our agency."
Johnson has been employed with the sheriff's office since 2013 and was previously assigned to the Patrol Division.
"The decision to become a member of the K-9 unit is not one that should be taken lightly," said Captain Steve Hall. "It is a commitment that comes with responsibility, both on and off duty. It has been a real pleasure to watch Lacey to work so diligently and reach her goal of becoming a K-9 handler."
With the new team in place, the sheriff's office now fields five K-9 teams who train weekly to maintain their craft. The K-9 Unit is led by International Police Work Dog Association (I.P.W.D.A) Master Trainer Sgt. Todd Fleenor. The K-9 teams are certified in Patrol and Narcotics Detection and are used to conduct building searches, to assist with evidence recovery, to track suspects, to detect narcotics and to apprehend violent offenders. The unit also has two single-purpose canines trained in explosive detection.
All teams are required to certify annually through I.P.W.D.A.