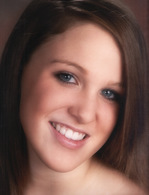 Emily Nicole Morris, 25, of Port Saint Lucie, FL passed away suddenly on March 17th 2017 in Port St. Lucie, Florida. Born on July 22, 1991 in Terceira Island, Azores. She was the cherished daughter of David Morris (Kathryn) and Joanna Schwab (William). She was preceded in death by her paternal grandparents John Morris (Bernice) and June Morris. Emily is survived by her sister Erica Morris, her maternal grandparents Nick and Judy Vukmer, her aunts and uncles John Morris (Olga), Jim Morris, Dana Morris, David Vukmer (Alison), Barrett Vukmer (Denise), her cousins Elizabeth Morris, Michael Morris, Matthew Rosado, Melissa Rosado, Nicholas Rosado, Nicholas Vukmer, Michael Norris, John Norris, William Norris, Jacqueline Vukmer, and many, many friends. She graduated from Leonardtown High School in 2009. Emily was a student at the University of Maryland University College and was planning to graduate with a bachelor's degree in Communications in May 2017. She worked as a Behavior Health Specialist at the Revive Recovery Center in Port St. Lucie, Florida and as a server at Cody's Original Roadhouse in Port St. Lucie, Florida. She was a genuine loving soul that was always the first to be there to help others that were struggling. Emily enjoyed spending time with her friends, hanging out with her sister Erica, going to the beach, telling jokes, encouraging others, sleeping (her favorite), and laughing. Emily's laugh was infectious and everyone knew it was her because it was loud and one of a kind. She will be sorely missed and will be forever in the hearts of all who knew her.
Visitation will be Wednesday, March 29th, 2017, 9:00am – 11:00am at Faith Bible Church, 26325 Three Notch Rd, Mechanicsville, MD 20659 with services by Reverend Todd Crawford at 11:00am and a gathering to follow at the church. Pallbearers will be: John Morris, David Vukmer, Jim Morris, Barry Vukmer, Michael Norris, John Norris and Billy Norris. Interment will be private.
In lieu of flowers, memorial contributions may be made in Emily's name to the Amethyst Recovery Center, 2000 SE Port St Lucie Blvd Suite B, Port St Lucie, FL 34952.