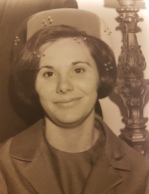 Maria Odete Rodrigues Abreu Nolletti, age 70, of Leonardtown, MD, lost her battle with leukemia on March 18, 2017. Odete is survived by her husband, Redo Nolletti of Leonardtown, MD, two children, Patrick Nolletti of Teagu, South Korea and Natasha Nolletti Burney of Tel Aviv, Israel, and three grandchildren, Nathan Nolletti, Alexandra Burney and Danielle Burney, as well as her brother Edgar Abreu. . She was preceded in death by her daughter Sonia Nolletti, siblings: Jose Abreu, and Alzira Abreu Silva. Odete, born May 18, 1946, in Castelejo, Portugal, moved to the United States with her family in 1956 and spent much of her life supporting her adopted country. As a military spouse for nearly 28 years and as a civil servant supporting troops around the world, Odete lived in the U.S., Germany and Italy. She believed that "home is where the heart is" and ensured family and friends alike were welcomed into a loving home, no matter the location. Odete easily adjusted and cherished every move, learning and blending within new environments and cultures.
Odete loved to travel and visited exotic locations like Egypt, Turkey, Israel and Jerusalem, Senegal, the Philippines, and South Korea. She made friends everywhere, building relationships that withstood the test of time and distance. She was also an unsurpassed pioneer of new cuisine which she loved to share with family and friends. Her generous heart, love and friendship will be forever missed. She will be missed by all who have known her, near and far.
The family will receive friends on Saturday, April 1, 2017 from 10:00AM to 11:00 AM in St. Aloysius Catholic Church Leonardtown, MD. A Mass of Christian Burial will follow at 11:00 AM with Father John Nguyen officiating. Interment will follow at a later date in Arlington National Cemetery Arlington, VA
Contributions may be made to the American Cancer Society 1041 Rt. 3 North Building A. Gambills, MD 21054 and/or the Leukemia & Lymphoma Society 100 Painters Mill Road Suite 800 Owings Mills, MD 2117-4794.