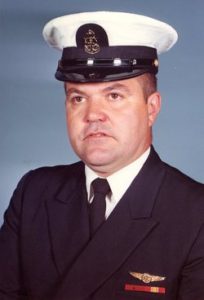 Bernard F. "Barney" Kane, 77, of California, MD passed away March 24, 2017 at his home surrounded by his loving family.
He was born October 28, 1939 in Shamokin, PA to the late Thomas M. Kane and Elizabeth Cress.
On March 17, 1958 Barney enlisted in the United States Navy were he proudly served his country for 20 years until his retirement March 30, 1978, as an Aviation Electrician Chief Petty Officer.  He served aboard the USS Harkness and USS LaSalle; Antarctic Development Squadron 6, Quonset Point with "Summer 1972" in Antarctica; and Rotary Wing and VP-44 at Patuxent River. He taught for 15 years at Harry Lundeberg School of Seamanship until his retirement in 2001.  On July 8, 1961 he married his beloved wife, Sarah A. Kane, in California.  Together they celebrated over 55 wonderful years of marriage.  He was an avid Washington Redskin fan and still loved the Washington Senators. He was a member of the Fleet Reserve Association, Branch 93 and the Loyal Order of the Moose.
In addition to his beloved wife, Barney is survived by his children: David Shaun Kane of Knotts Island, NC, Timothy Michael Kane of Manchester, MD, and Kathryn Elizabeth Schultz of Sapulpa, OK; his sister, Mildred Kane Koppen of Carlisle, PA; his grandchildren: Jade Marie Kane, Sarah Schultz Maneri, Rebecca Schultz, Nora Kane, and Meara Kane; and many extended family and friends.  In addition to his parents, he is preceded in death by his brothers, Thomas Kane, Joseph Kane and Francis Kane.
Family will receive friends on Thursday, March 30, 2017 from 10:00 a.m. – 12:00 p.m., at Brinsfield Funeral Home, P.A., 22955 Hollywood Road, Leonardtown, MD 20650. A Memorial Service will be celebrated by Reverend Jaroslaw Gamrot at 12:00 p.m. Interment will be celebrated at a later date.
In Lieu of flowers, memorial contributions may be made to Camp Maria Retreat Center, 41290 Camp Maria Road, Leonardtown, MD 20650 and Hospice of St. Mary's, P.O. Box 625, Leonardtown, MD 20650.
Arrangements by the Brinsfield Funeral Home, P.A.