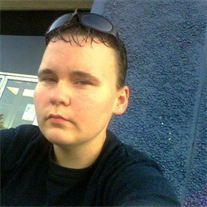 Angel Marie Smith, 32, died suddenly on March 21, 2017 in La Plata, Maryland.
Born on November 15, 1984 in Cheverly, MD, she was the daughter of Betty Jo Smith Bell and David Bell.
In addition to her parents, she is survived by her siblings Nicole, Daisy, Marty, David, Isaac, Joshua, Sonny and Leon; numerous other relatives and friends. She was preceded in death by her brother Jacob Lee Smith.
Visitation on Friday, March 31, 2017 from 5:00 PM to 8:00 PM with Service at 7:00 PM at the Raymond Funeral Service, P.A. 5635 Washington Avenue La Plata, Maryland 20646. Interment will be private.
Contributions are asked to be made directly to Raymond Funeral Service, P.A. or to the Go Fund Me Account, "Laying Angel to rest fund" at www.gofundme.com.