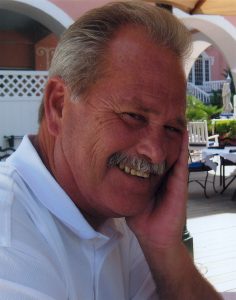 Thomas E. Hines III, 64, of Rose Haven Md., passed away at home from cancer on March 25, 2017. Born October 1, 1952 in Washington D.C, the eldest of 5 children, loving son of Thomas E. Hines Jr. (deceased) and Twila Mae Hines. Survived by his sisters Linda Carlson, Beverly Harris (Barry), brother David (Mary), loving companion Sherry Benson along with numerous nieces and nephews. He was predeceased by brother James and brother in law, David Carlson.
Tom was raised in Washington D.C. and P.G. County where he attended Oxon Hill High School and the University of Maryland. He was a member of the Catholic faith where he was an active altar boy who served through his teenage years. Through employment Tom relocated to Florida and later to Louisiana where he spent the next 25 years in leadership roles in the Tire Industry. After returning to Maryland in 2000, Tom worked on and off with his longtime friend of 50 years, Rick Fernandes.
Retired for 2 years, Tom was enjoying life to the fullest, splitting his time here and with Sherry in Cincinnati. He was a fabulous golfer and enjoyed sharing his knowledge and abilities with his many golfing buddies and devoted friends Smokey Ward and Chris Engel. He was a regular at Twin Shields and at Neptune's in North Beach. Tom was described by friends as "one of the smartest people they have ever known." He had a very quick wit and an uncanny sense of humor. Just fun to be around! He will be deeply missed.
Time of Service: 3/31/2017 11:30 AM
Service Location: St. Anthony's Catholic Church