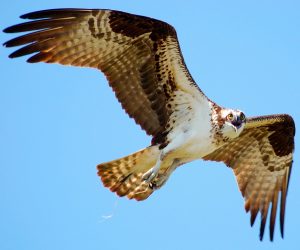 The osprey, an avian harbinger of spring, has returned to Calvert County. The migratory birds of prey return from southern wintering spots about this time each year to nest throughout the Chesapeake Bay region, especially along the Patuxent River. A nesting pair recently arrived at Kings Landing Park in Huntingtown and can be viewed by webcam HERE.
Ospreys often return to the same nesting site each year. Their nests are made of large twigs and branches perched in trees or more frequently on buoys, man-made platforms, even dock house roofs. The birds feed almost exclusively on fish, so are never very far from water.
"The return of the osprey, almost to the day each year, and the fidelity to their nest site inspire a sense of wonder," shared Calvert County Natural Resources Division Chief Karyn Molines. "The healthy populations are a testament that our environmental protection efforts make a difference. Residents of Calvert County are fortunate to have places like Kings Landing Park and Flag Ponds Nature Park to observe these magnificent birds."
The OspreyCam was installed in 2016 to monitor a nest at Kings Landing Park as part of the Calvert County Board of Education CHESPAX program, supported by a grant from Cove Point Natural Heritage Trust. Calvert County Natural Resources Division assisted in building the camera platform, installing the camera and monitoring the nest.
Ospreys are being studied by Calvert County seventh-grade students to illustrate the interconnectedness of the land, water, plants and animals living in the Patuxent River. Local teens visited the nest in July to band the young osprey.