On March 30, 2017 at approximately 5:35 p.m. deputies from the Calvert County Sheriff's office were conducting radar speed enforcement on Adelina Road in Prince Frederick.
Cpl. Morder observed a small Honda SUV travelling 53mph in a 30mph zone. He activated his emergency equipment and attempted to stop the vehicle. However, the vehicle sped up and turned east on Maryland Route 231, toward Prince Frederick. The vehicle passed several other vehicles at a high rate of speed. The driver lost control of the vehicle in the area of Thoroughbred Drive. The vehicle struck the curb on the opposite side of the road, launching it into a pole and eventually striking the passenger side of another vehicle in the intersection of Maryland Route 231 and Prince Frederick Boulevard.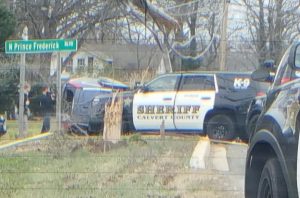 The driver of the other vehicle was taken to Calvert Memorial Hospital for treatment of minor injuries.
The driver of the Honda, Identified as 19 year old Jacob Dohm of Edgewater, was transported via helicopter to Prince Georges Shock Trauma. He is listed in stable condition.
This investigation is still ongoing and several charges are pending.