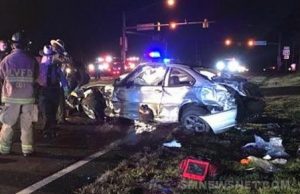 UPDATE 4/4/2017 – Official MSP Release: One wanted individual has died and another was injured following a crash that occurred in St. Mary's County early this morning after they refused to stop for a trooper.
The deceased is identified as Tabais L. Robinson, 24, and the injured man is Andre T. Gross, 23, both of whom are from Calvert County.
Robinson was wanted on a parole retake warrant and on a warrant for violation of probation. Gross is wanted on five warrants from the Calvert County Sheriff's Office involving theft, failure to appear and child support. He has been charged today by troopers with possession of cocaine after suspected cocaine and synthetic marijuana were found in the car in which he was a passenger. He is currently being held at the St. Mary's County Detention Center.
Shortly after 12:30 a.m. on Tuesday, April 4, 2017, a Maryland state trooper from the Prince Frederick Barrack was working speed enforcement on Rt. 4 in Solomons, Md., prior to the Thomas Johnson Bridge. He observed a southbound BMW following another car and failing to dim its headlights. As the car passed he also saw the vehicle had no working tag light.
The trooper followed the BMW across the bridge and then activated his emergency equipment in an attempt to make a traffic stop. The driver, later identified as Robinson, failed to stop and accelerated away. The trooper notified the Leonardtown Barrack the suspect was traveling between 80-90 mph on Rt. 4.
The trooper saw the vehicle's headlights go off as the car turned onto Fairgrounds Road. Robinson drove down Fairgrounds Road with no lights on. Just prior to Rt. 5, Robinson lost control of the car, before striking a street sign, a ditch and overturning several times. Robinson was ejected from the car.
Emergency medical personnel were summoned immediately. Robinson was transported to Medstar St. Mary's Hospital, before being transferred to Medstar Washington Hospital Center, where he was pronounced dead later this morning. Gross was transported to Medstar St. Mary's Hospital, where he was treated for injuries. He was arrested by troopers following his release.
The investigation by the Maryland State Police Crash Team is continuing.
4/4/2017: On Tuesday, April 4, 2017, at approximately, 12:55 a.m., a high speed police chase came to an end on Point Lookout Road in Leonardtown.
The Maryland State police chased a vehicle from Calvert County into St. Mary's County.
Troopers from St. Mary's County and Sheriff's Deputies assisted  after the chase ended.
The driver of the fleeing vehicle was ejected from the vehicle at the crash and was taken to an area hospital.
Details will be provided as they become available.