Kyle J. Smith's resume is robust. The leadership experience is a bulleted list of more than 25 offices, positions and memberships under more than 10 headings. Where his resume is thin is under education. It makes sense —Smith is a high school junior. Carrying a 4.563 GPA at North Point High School where he is in the engineering Science, Technology and Industry (STI) program, Smith is in the prime position to run for student member of the Maryland State Board of Education.
"If there is someone I envision in that position, it's him," Wilbur Leonard, North Point's Student Government Association (SGA) sponsor, said.
Smith is in the thick of things at school and in his community. He's also a person you can count on. "He is probably the most dependable high school kid I've ever met," Leonard said.
Smith wears a tie to school for no other reason than, "I wear a lot of ties," he said. He counts President Barack Obama as an influence, while others think Smith is someone to emulate.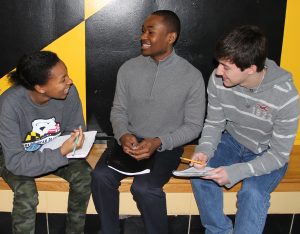 "He's an amazing worker," senior Joseph Perriello, president of the North Point SGA, said. "I've never met someone who has been so passionate about student issues. He's the most reliable officer I've ever worked with."
"He reminds me of Barack Obama," junior Jordyn Best, North Point's liaison to the Board of Education, said. "He's a great person, very professional. You can count on him."
Smith came into student leadership roles in high school. He was introduced to student government in middle school, but with the club meeting afterschool and no guarantee of a ride home, he had to wait until he came to North Point. That's when he hit the ground running. He is involved in the National Association of Student Councils, the Maryland Association of Student Councils, a student member of the Maryland State Board of Education advisory council, the Charles County Association of Student Councils (CCASC) and North Point's SGA, in which he's held several leadership positions. Smith is a member of the school's mock trial team that was in the final four out of 33 teams in its region, and he participated in the Hugh O'Brian Youth Leadership Seminar as a HOBY ambassador.
Smith volunteered with the nonprofit Dream to Soar Foundation and is active in the state and county National Advancement of Colored People (NAACP). Smith served as the presiding president during the October 2016 NAACP Maryland State Youth and College Division Conference, where he was the master of ceremonies at the event's luncheon. He is the chairman of the NAACP Youth Council Region VII, was the vice president of the NAACP Charles County Youth Council from 2014 to 2015 and is the president and an executive board member of NAACP Charles County Youth Council.
He was approached by Wanda Woodland, president of the local branch of the NAACP, at his brother's basketball game who asked if he was interested in joining the organization. "I said 'OK,'" Smith said. "I want to help out with civil rights."
Smith is proud of his involvement with the NAACP and how young people are making their voices heard. Members marched from the Charles County Courthouse to the Charles County Sheriff's Office in La Plata to raise awareness about the need for criminal justice reform. "We advocate for the issues that are really dear to us," Smith said.
As a member of the SGA and CCASC, Smith advocates for every student. "Students are the largest stakeholder in the school system," he said. It's a practice he will bring to the state Board if he is tapped to serve.
The Maryland State Board of Education has 12 voting members, including a student member with a full vote who has partial voting rights. The student member can be a high school junior or senior and serves a one-year term and is selected by the Maryland Association of Student Councils for the governor. A student member has been on the Board since 1985.
If he is selected as the student member of the state board (SMOB), Smith will be the second Charles County student in about a decade to have the position. Thomas Stone High School graduate and student member of the Charles County Board of Education from 2005 to 2006, Brian Frazee served on the state board from 2006 to 2007.
"It is absolutely critical to have a student on the State Board of Education," Frazee said. "No constituency is more affected by State Board of Education policies than students. Having the student voice on the Board is essential for the Board to make effective and informed policy."
Although they have never met, Frazee, now director of government relations at Maryland Hospital Association, nearly describes Smith when he outlines what makes a successful SMOB.
"A good SMOB possesses the ability to represent the diverse viewpoints of the more than one million students in Maryland," Frazee said. "An effective SMOB not only casts the 'student vote' on issues, but ensures the State Board of Education understands the full spectrum of students' views on any given issue before the Board."