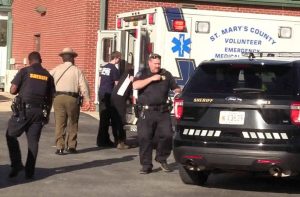 UPDATE 4/11/2017 @ 3:30 p.m.: On Saturday, April 8, 2017, at approximately 5:18 p.m., victim Lori Milligan, 56, drove to the Bay District Volunteer Fire Department on South Shangri-La Drive suffering from a gunshot wound to her chest.
The victim was flown to Prince George's Hospital Center for treatment.
The circumstances surrounding the incident remain under investigation, and anyone with information is asked to contact Detective Skyler LeFave at 301-475-4200, ext. *1983 or by email, at [email protected].
4/8/2017: On Saturday, April 8, 2017, at approximately 5:20 p.m., a woman arrived at the back entrance of the Bay District Volunteer Fire Department, and made contact with a firefighter.
The woman, described by one witness at scene as a blond haired, white woman, possibly in her 40's told firefighters she had a gunshot wound to the front of her upper body. The woman had a "through and through" gunshot wound that appeared to have come from a small caliber firearm, at close range.
The woman told a firefighter that she was at her boyfriend's house in Tall Timbers, when she had shot herself. She also said, she had thrown the gun out the window, on the way to the firehouse.
She changed her story a short time later and said she was shot by a man she had picked up.
Police are investigating leads and SMNEWSNET will provide updates as they become available.
The woman was flown to an area trauma center by Maryland State Police Helicopter, Trooper 7.
Anyone with information about this shooting is asked to contact the St. Mary's County Sheriff's Office, Duty Officer at 301-475-4040