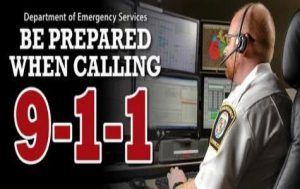 In recognition of National Public Safety Telecommunications Week (Sunday, April 9 –Saturday, April 15), the Department of Emergency Services (DES), 9-1-1 Call Center wants to ensure that you or your loved one knows what to do when placing a 9-1-1 call.  To accurately assess each emergency situation and send the best response possible, callers are asked to:
Be patient.
Stay calm and speak clearly.
Know the location of the emergency.
Pay attention to the call taker's questions.
Follow the instructions given and do not hang up the phone until instructed to do so.
9-1-1 call takers are trained to ask questions necessary for your particular emergency.  Answer ALL questions and provide the best possible response to your situation.  The information you provide will prepare responders to give precise assistance when they arrive at the scene.
Prepare your child by:
Teaching them to dial 9-1-1, what 9-1-1 is used for, and to call only during an emergency.
Having your child learn their full names and their parent's names.
Teaching your child to look at their surroundings.
Having your child go to a trusted neighbor's house before calling 9-1-1 in the event of a dangerous situation.
Reminding them to answer all questions, providing as much information as possible, and do not hang up unless told to do so.
For more information or questions, visit www.CharlesCountyMD.gov/es/communications/fire-and-ems-communications. Citizens with special needs may contact the Maryland Relay Service at 711, or Relay Service TDD: 800-735-2258.