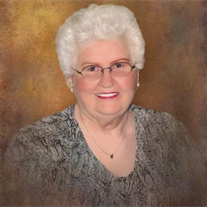 Ruth Minton, age 85 of Mechanicsville, Maryland (formerly of Pennington Gap, Virginia) died April 2, 2017 at Charlotte Hall Veterans Home.
Ruth was a homemaker and a member of the American Legion and the Pink Ladies Volunteers at Lee County Hospital in Pennington Gap, Virginia.
She was the daughter of Claude Harber and Edna Ruth Smith Harber. In addition to her parents, she was predeceased by her husband, Virgil Minton.
She is survived by her children, Matilda Slogle, Virgil L. Minton, Debra Abresch, Belinda Carroll, and Bettina Witzie and her siblings, Fay McKinney and Carl Smyth. She is also survived by nine grandchildren, nine great-grandchildren, and one great-great-grandchild.
Funeral Service and Burial will be held on Saturday, April 8, 2017 at Sturgill Funeral Home, 298 Harrell Street, Pennington Gap, Virginia 24277. Interment at Lee Memorial Gardens.
Local arrangements by Raymond Funeral Service in La Plata, Maryland.