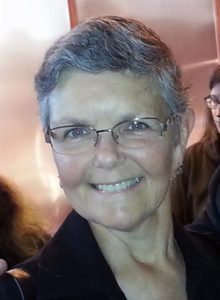 Katherine Reynolds Chandler ("Kate"), 67, died at 1 PM, Saturday, April 1, 2017, at her home in St Mary's City, Maryland, after battling Stage 4 Ovarian Cancer for 2 years. She was born October 10, 1949 at Fort Gordon in Augusta, Georgia, to Harold K (Deak) and Elizabeth H (Beth) Reynolds. She married Roy F ("Rocky") Chandler on May 5, 1976.
Surviving Kate are her sister, Sue Reynolds, of Chapel Hill, North Carolina, and her brothers Kim Reynolds of Washington DC, and John Reynolds of Nashville, Tennessee. Kate's father, mother, brother Kenny, and husband preceded her in death.
She completed her M.A. and Ph.D. in English Literature at The Pennsylvania State University with a dissertation in fiction of the Romantic period, but her research had turned to nature/environmental literature as a professor of English at St Mary's College of Maryland, where she has taught since 1996. In addition to her contributions to the English department, she helped to found the Environmental Studies program, through which she has mentored many students in their cross-disciplinary senior projects. She joined with students and faculty in promoting interdisciplinary ideas and activities, and helped create the Campus Community Farm, which brought her great joy and pride. Kate co-edited the first collection of critical essays on Terry Tempest Williams, "Surveying the Literary Landscapes of Terry Tempest Williams". She received the Norton T. Dodge Award for Teaching Excellence in 2011.
Kate was a member of The Church of Jesus Christ of Latter-day Saints, and an active member of the Lexington Park Ward. Over many years in the church, she served in numerous leadership capacities, including President of the Relief Society, where she worked to secure the welfare of women and families. She also presided over the children's organization and was a loving Sunday School teacher, blessing the lives of hundreds in the church. She was an example of Christlike service to everyone who knew her.
Kate was a great daughter, great wife, great friend, great colleague, great teacher, and especially a great sister who will be missed every day. She was one of a kind.
Kate requested no memorial service. Memorial contributions may be made in her name to Hospice of St Mary's, P. O. Box 625, Leonardtown, Maryland 20650.