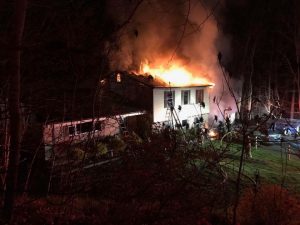 On Sunday, April 9, 2017, at approximately 5:00 a.m., firefighters from Huntingtown Volunteer Fire Department and surrounding departments  were alerted to report of a house fire at 1212 Lake Ridge Drive, in Sunderland.
Crews arrived on scene to discover a two story single family home on fire.
It took over 15 minutes for 40 firefighters to bring the blaze under control.
No injuries were reported.
The family was displaced as a result of the fire and are being assisted by the American Red Cross and other family members.
The fire started in the game room and the cause of the fire is under investigation.
The total estimated damage to the house and contents is estimated at over $250,000.
Photo courtesy of the North Beach Volunteer Fire Department.