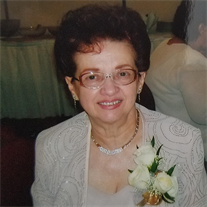 Carmen M. Gonzalez, 78, of North Beach, MD, passed into the loving arms of her Lord and Savior Jesus Christ on Sunday, April 9, 2017, in her home surrounded by her loving family. She was born in Puerto Rico, the daughter of the late Miguel and Dominga (Juarbe) Samalot. She was the beloved wife of Jose Miguel Gonzalez for 60 years.
Along with her husband, she is survived by a daughter Ilsa Ferro (Bill), a son Jose Gonzalez (Margie), two grandchildren, Jessica Hanbury (Matt) and Holly Gonzalez, and adoptive granddaughter Mandi Baldwin.
Contributions in her name may be made to Bayside Baptist Church, 3009 East Chesapeake Beach Road, Chesapeake Beach, MD 20732 or Calvert Hospice, P.O. Box 838, Prince Frederick, MD 20678
If you are sending flowers please do not send any arrangements containing any type of lily due to allergies. Thank you.