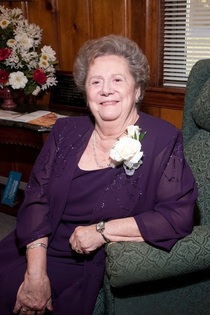 Margaret A. Stone, 86, of LaPlata, died on April 10, 2017 in LaPlata. Born on July 21, 1930, she was the daughter of the late Thomas Jefferson Jameson and the late Mary Adelaide Cooksey.
Peggy is preceded in death by husbands F. Wills Posey III "Sonny", Wm. Michael Stone, Jr., daughter Mary Elizabeth Davis, and granddaughter Angela Houtz.
Survived by siblings Thomas J. Jameson, Jr., Dr. C.W. Jameson (Barbara), Mary Ida Pallotta; children Bernard H. Posey (Vicki), Jefferson Wills Posey, Julia Posey Shontere (Joe), son-in-law Frederick E. Davis, step-children Wm. Michael Stone III (Peggy), Renee Abell (Richard), and Debbie Shipley. She had 16 grandchildren, 14 great-grandchildren and many nephews, nieces and cousins.
Peggy was a life-long resident of La Plata and faithful member of Sacred Heart Catholic Church. A graduate of Sacred Heart School in 1947, she worked for a while at H.H. Hawkins Insurance Agency. In 1950 she married her high school sweetheart, Sonny Posey, and together they owned and operated Posey's Hardware & Appliances until Sonny's unexpected death in 1976. The family business continued for another 10 years before closing its doors on Charles Street. In 1987 Peggy went to work in the offices of Baldus Real Estate where she enjoyed being a part of their team for over 10 years.
In 1989 Peggy happily married Mike Stone and together they built their dream house in the new development of King's Grant where they hosted many, many happy family gatherings. Sadly, she lost Mike to cancer in 1997. Peggy remained in the house until health issues made a change necessary. Abbey Manor Assisted Living in La Plata (now Sagepoint) became her residence in 2011 where she lived until her death.
Peggy was a true Lady of La Plata. Her beautiful singing, wonderful smile, gentle spirit and loving personality will be missed by all who were blessed to know her.
The family will receive friends on Monday, April 17, 2017 from 2 to 4 and 6 to 8 PM at the Arehart-Echols Funeral Home, LaPlata, MD. A Mass of Christian Burial will be celebrated on Tuesday, April 18, 2017 at 9:30AM at Sacred Heart Church, 201 St. Mary's Avenue, LaPlata, MD with interment immediately following.
Memorial contributions may be made to Hospice of Charles County www.hospiceofcharlescounty.org or the Charles County Rescue Squad, P.O. Box 40, LaPlata, MD 20646.