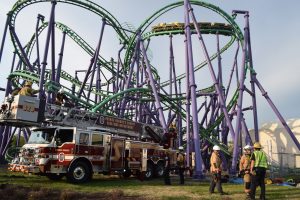 Twenty-four roller coaster riders at an Upper Marlboro amusement park were successfully transferred from their stalled ride to safety on Thursday, April 13, 2017.
Prince George's County Firefighter/Medics and the Department Technical Rescue Team were alerted at about 5:35 pm, that a ride had stalled 80-feet above the ground at about a 30-degree angle. There were 50 personnel on the scene including a tower ladder from Anne Arundel County. District Heights Tower 826 worked in tandem with the Tower from Anne Arundel County Waugh Chapel Station to lower riders to the ground after members of the High-Angle team removed the riders, one by one, from their seat to the tower bucket. (Tower Ladders extend up various lengths and have a bucket ((cherry picker)) at the end, or top, of the ladder. There is room in the bucket for several people depending on size and weight.)
The last of the 24 riders, age range from 6 to 45, were safely lowered to the ground lust before 9:30 pm. No injuries were reported.
All images by Mark E. Brady, Public Information Officer, Prince George's County Fire Department