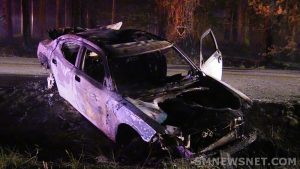 4/19/2017 @ 11:30 a.m.: The 2006 Dodge Charger was discovered abandoned off the road and was completely destroyed by the fire.
The vehicle fire also resulted in a large woods fire adjacent to the road. The vehicle had been reported stolen to the St. Mary's County Sheriff's Office earlier on the morning of the fire.
Anyone with any information regarding this incident is asked to contact the Office of the State Fire Marshal, Southern Regional Office, at 443-550-6833.
4/19/2017: On Wednesday, April 19, 2017, at approximately 4:45 a.m., emergency personnel in St. Mary's County were dispatched to a vehicle and woods fire in Dameron.
Firefighters from Pax River, Ridge, Valley Lee, and Bay District responded to St. Jeromes Neck Road, and discovered a burned out vehicle and a large brush fire.
Police and firefighters searched the area for a driver of the crashed and burned out vehicle, but were unable to locate anyone.
Firefighters worked quickly to extinguish the brush/woods fire.
The burned out vehicle is described as a Dodge Charger of unknown color and year.
Details will be provided as they become available.