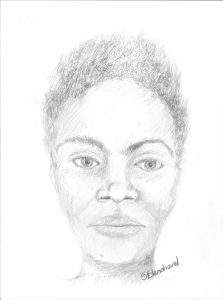 On Tuesday, April 18, 2017, Homicide Unit detectives will conduct a canvass in the Forestville neighborhood where the victim was discovered.
The canvass will begin at 6:00 pm in the 3300 block of Springdale Avenue.
Homicide Unit detectives released a composite sketch of the victim who was fatally stabbed on Sunday. Investigators are asking for the community's help in identifying her so we can notify her loved ones. Detectives also released photos of the victim's clothing, to include a knit cap, a shirt, jeans and her socks.
On April 16th, around 8:25 am, patrol officers responded to the 3300 block of Springdale Avenue in Forestville. The victim had knocked on a resident's door looking for help before collapsing in the front yard. The victim and the resident did not know one another.
The victim is an African American female, estimated to be between the ages of 20-23, 5'11" and 126 pounds. She did not have any scars, birthmarks or tattoos.
Detectives are actively working to identify the suspect(s) and motive in this investigation. A reward of up to $25,000 is being offered for information leading to an arrest and indictment in this case.
Anyone with information on this homicide is asked to call the Homicide Unit at 301-772-4925. Callers wishing to remain anonymous may call Crime Solvers at 1-866-411-TIPS (8477), text "PGPD plus your message" to CRIMES (274637) on your cell phone or go to www.pgcrimesolvers.com and submit a tip online.