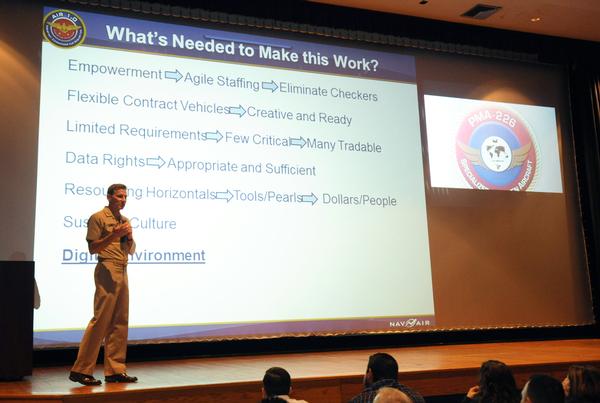 The world's dynamic is rapidly changing and NAVAIR needs to rethink its processes to stay competitive, the commander of the Naval Air Systems Command said during an address to the command's program management workforce (AIR-1.0) at Naval Air Station Patuxent River April 6.
During his opening remarks, Navy Vice Adm. Paul Grosklags, NAVAIR Commander, emphasized the message and priorities the Chief of Naval Operations Adm. John M. Richardson has for the service.
"His primary message to us is very simple: He said we, the Navy, are in a competition right now for which there is no second place," Grosklags said. "The competition is gaining on us very rapidly and that's not a very comfortable place to be."
Although the CNO wants the service to think more strategically, Grosklags challenged the workforce to think more critically about NAVAIR's processes.
"I want you to challenge the norm," he said. "Why are you doing what you're doing, the way you've done it, for the last 25 years? Is it because it's the absolute best way to do it? Or is because it was the way you were taught to do it 25 years ago and you really haven't thought about it any differently since then because you really didn't have a need to?"
Grosklags also gave an overview of several transformational initiatives NAVAIR has embarked on to take advantage of undeveloped, and in some cases, underutilized digital environments, including Capabilities-Based Acquisition, Capabilities-Based Test & Evaluation, Digital Business Operations and the Naval Aviation Enterprise's Sustainment Vision 2020.
Afterward, two AIR-1.0 teams were presented with the "You Made a Difference" award for going the extra mile to bring speed of capability and readiness to the fleet. They are:
Aviation / Ship Integration Externally Directed Team (AIR-1.2)
Night Vision Cueing & Display Integrated Product Team (PMA-202)
Additionally, Gary Kurtz, NAVAIR assistant commander for Acquisition (AIR-1.0), discussed 1.0-specific focus areas and actions to accelerate speed of capability and improve fleet readiness. Other highlights mentioned include actions taken from last year's NAVAIR Command Climate Survey, NAVAIR's new WRAPS deployment plan and DAWIA certification efforts during fiscal year 2017.
Other awards presented include:
Length of Service: Patricia Dreher, 5 Years (AIR-1.4)
Length of Service: Loriann Forsythe, 20 Years (AIR-1.4)
Length of Service: Barry Foltz, 25 Years (PMA-209)
Meritorious Service Medal: Navy Lt. Cmdr. Glenn Hanks (AIR-1.2)
2017 James M. Crawford Technical Standards Board Outstanding Achievement Award: Dan Christensen (AIR-1.1)
College of Program Management Certificate of Completion: Donald Sheehan (PMA-263)
January Spotlight Award: Chief of Naval Air Training Ground Based Training Systems (GBTS) Integrated Product Team (PMA-205)
February Spotlight Award: Marine Corps Capt. Danny Day (PMA-260)
March Spotlight Award: Tactical Combat Training Systems Increment II Integrated Product Team (PMA-205)
2017 NAVAIR Leadership Development Program graduates
2017 NAVAIR Journey Leadership Development Program graduates