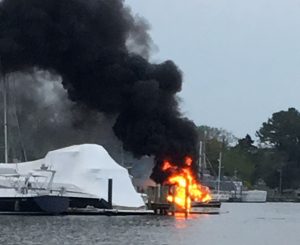 On Thursday, April 20, 2017, at approximately 7:20 p.m., a boat fire was reported at the fuel station of the Solomons Island Yacht Club
According to a tweets by the Natural Resources Police:
1 man was uninjured, and one was taken to MedStar DC. W/2nd degree burns on legs.
Burn victim: Michael Shawn Franz, 38, of Westminster. Father refused treatment. Fire marshal on scene tomorrow for investigation
Quick thinking by a charter boat capt. pulled burning boat away from Solomons pier & into deeper water.
We will provide updates as they become available.