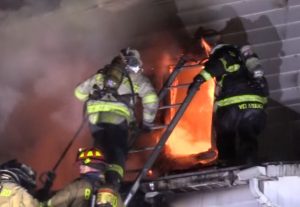 Update: Unknown suspect(s) entered the vacant structure and intentionally set the fire.
Anyone with any information regarding this incident is asked to contact the Office of the State Fire Marshal, Southern Regional Office, at 543-550-6831.
4/242017: On Sunday, April 23, 2017 at approximately 11:15 p.m., firefighters responded to a commercial building fire on Solomons Island Road, in Solomons.
Emergency personnel arrived to find the old Locust Inn, on fire.
The two-alarm fire brought departments from Charles, St. Mary's and Calvert Counties.
Two firefighters were injured at the scene, one had an injured ankle, and another had a laceration to the forehead, both were transported to an area hospital.
Investigators from the Maryland State Fire Marshal's Office responded to the scene.
The vacant building has been the subject of controversy, regarding its current status as an historic district.
The buildings location can be seen in the center of the map below, to the right of the Striped Bass
Updates will be provided as the become available.