Odenton retailer sells $1 million-winning 100X The Cash ticket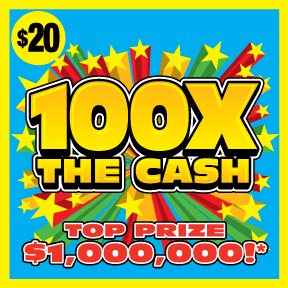 For someone who spends his days searching for things underground, a Prince George's County man who became Maryland's latest Lottery millionaire is now flying plenty high. A spur-of-the-moment Lottery purchase last week changed his family's future and provided him with the makings for a great surprise.
The 37-year-old husband and father works as a location technician – one of the folks you call before you dig a big hole in your yard. He found himself near Lucky's Superette at 1101 Odenton Road in Odenton, a store that he knew sold Lottery tickets.
"I really enjoy scratch tickets," he said. "My wife gets on me about playing them, but they're fun."
This time he chose a 100X The Cash ticket because he said the $20 game has treated him well in recent weeks.
"I was scratching the ticket outside the store, leaning against what I call the lucky spot on my car when I saw the dollar amount I'd matched."
Even after examining the ticket five times, he still didn't believe his eyes, so he walked back into the store.
"The clerk took a look at it and his eyes got real, real wide," the lucky winner said. "That's when I knew the $1 million was real."
The Laurel man immediately drove to his wife's office to surprise her.
"I told her that I'd gotten a Lottery ticket that morning and handed it over," he said, adding that she first looked at him with disapproval. But when she examined the ticket, she soon realized what she was holding.
"Lots of tears then," he said.
The couple plans to add to the college funds they have for their children, pay off several bills, take a long-needed vacation and put the remainder in the bank.
"There are a lot of things, long-term things that we were worried about this morning that are now taken care of. It's a wonderful feeling," he said.
The retailer is a winner as well. For selling a $1 million-winning ticket, Lucky's Superette will receive a $1,000 bonus from the Maryland Lottery.
The 100X The Cash ticket launched in November, and there are still four more unclaimed $1 million top prizes, along with seven unclaimed $50,000 prizes, 32 $10,000 prizes, and thousands of additional prizes ranging from $20 to $5,000.