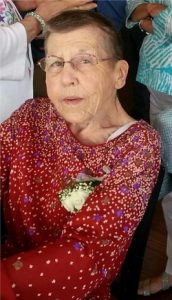 Margaret Ann Shanahan, 83, of Valley Lee, MD passed away April 19, 2017 at Chesapeake Shores Nursing Center in Lexington Park, MD surrounded by her loving family.
She was born March 4, 1934 in Alexandria, VA to the late James C. Milstead and Helen E. Penn.
Margaret is a graduate of George Washington High School in Alexandria, VA. On November 1, 1952, she married her beloved husband, Raymond Earl Shanahan in Alexandria, VA. Together they celebrated over 64 wonderful years of marriage. She was employed as a dedicated and highly organized Executive Administrative Office Assistant for National Geographic Society until her retirement. She was a devoted and loving wife, mother and grandmother. She took great pride in keeping a spotless home. In addition to cleaning her home, she also enjoyed doing yard work. Her other hobbies included duckpin bowling, watching boxing, and going to the beach. Every summer she and her husband spent two weeks in Sarasota, FL. She was an avid swimmer and especially enjoyed spending her days with her family on the beach. Her family was her greatest love, and she enjoyed spending her time with them.
In addition to her beloved husband, Margaret is also survived by her son: Raymond Carroll Shanahan (Geneva) of Alexandria, VA; her grandson, Justin Shanahan (Neena) of Beltsville, MD and her niece, Beverly Kerig (James) of Valley Lee, MD. In addition to her parents, she is also preceded in death by her sister, Edna V. Shortt.
Family will receive friends on Sunday, April 23, 2017 from 1:00 to 4:00 p.m., at Brinsfield Funeral Home, 22955 Hollywood Road, Leonardtown, MD 20650. A Funeral Service will be celebrated by Reverend Joe Orlando on Monday, April 24, 2017 at 10:30 a.m. at Brinsfield Funeral Home. Interment will follow at 2:00 p.m. at Mount Comfort Cemetery, 6600 South Kings Highway, Alexandria, VA.