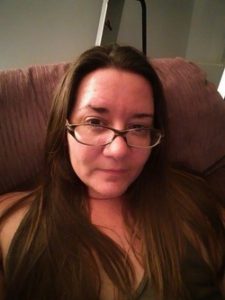 Stefanie Ann Shelton, 33, of Lexington Park, MD passed away on April 21, 2017 at Georgetown University Hospital in Washington, D.C. after her struggle with leptomeningeal carcinomatosis.
She was born June 12, 1983 in Sacramento, CA to Ronald and Margo Shelton of Great Mills, MD.
In June 2015, Stefanie earned her Associate of Arts degree from the Community College of Southern Maryland in Business Administration. She was employed by Direct Mail in Prince Frederick, MD as a dedicated and efficient Quality Assurance Controller for almost 8 years. Stefanie was engaged to marry Paul Darren Jenkins. They celebrated 6 wonderful years together. She was a gourmet cook and decadent baker. She was famous for her lasagna and chicken and dumplings. She especially enjoyed cooking and baking with her daughters. She was an avid reader and excellent speller. Stefanie enjoyed watching her children in various sports; she was their biggest cheerleader and greatest fan. Her other hobbies included, hunting, fishing, crabbing and camping. She was always kind, generous and compassionate. Her greatest love was for her family, especially her children, whom she enjoyed spending as much time as possible with.
In addition to her parents, Stefanie is also survived by her children: Toivo, Avery, Damien and Kacie Kent of Lexington Park, MD; her fiancé, Paul Darren Jenkins of Lexington Park, MD; her brother, Kristopher Shelton (Jenna) of Hagerstown, MD; her niece, Audrey Shelton; her nephew, Franklin Shelton; her step-children: Joshua, Jesse and James Jenkins of Mechanicsville, MD; and many extended family and friends.
Family will receive friends for Stefanie's Life Celebration on Thursday, April 27, 2017 from 4:00 to 7:00 p.m., with a Funeral Service celebrated by Pastor Matt Hall at 6:00 p.m., at Brinsfield Funeral Home, 22955 Hollywood Road, Leonardtown, MD 20650. Interment will be private.
Memorial contributions may be made to the America Cancer Society, 405 Williams Court, Suite 120, Baltimore, MD 21220.