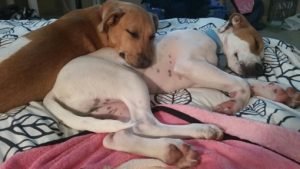 Wednesday's Pet for 4/26/17 LUCY AND RICKY
Featured Pet: Lucy and Ricky
Rescue Group: Pets with Disabilities
Disability: Congenital hip abnormalities, No surgery is needed per the groups orthopedic Veterinarian
Breed: Hound Mix
Sex: Female and Male
Size: Medium (45 lbs)
Vetted: Neutered and Spayed and Up-to-date with routine shots
Adoption Fee: $300.00 per pup
Lucy and Ricky were left outside of a vet's office in a cardboard box. Both dogs had cigarette burns and had not been cared for. An outside kennel at the vet's office became their new home. They were passed over by many adopters. Finally, a young woman reached out to Pets with Disabilities for help. PWD answered the call and they are ready for new beginnings. These two are a dynamic duo; they are a bonded pair. They are very connected and love the companionship of one another. They are a true bonded pair; they play together, sleep together and do not mind sharing food bowls. They are playful, fun and sweet dogs. Come meet them for yourself and see. Every night when the cameras are checked, they can be seen sleeping on the same bed, always touching one another. They will make a wonderful pair of companions.
If you are interested in meeting them, please complete an Application
http://www.petswithdisabilities.org/adoptionapplication.doc and email it to [email protected].
A little bit of breed information:
Hounds make wonderful companions. They are loyal, intelligent and quick to learn. Also quick to love and good with children.
"He is your friend, your partner, your defender, your dog. You are his life, his love, his leader. He will be yours, faithful and true, to the last beat of his heart. You owe it to him to be worthy of such devotion."
– Unknown