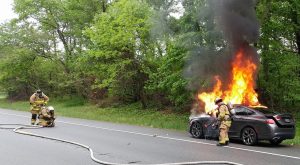 On Wednesday, April 26, 2017, at approximately 10:35 a.m., firefighters from the Naval District Washington Fire Department (NDWFD Webster Field) and Ridge Volunteer Fire Department responded to 16061 Point Lookout Road, in St Mary's City for the report of a vehicle fire.
Firefighters arrived on scene to find a passenger vehicle engulfed in flames.
Engine 141 from NDWFD Webster Field was first to arrive and extinguished the fire, while members from Ridge VFD also assisted.
The cause of the fire in not known at this time.
No injuries were reported.