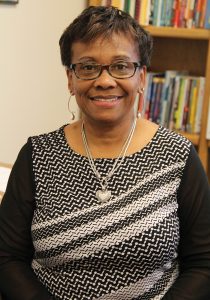 At the end of this school year, Wilhelmina Pugh, principal of Malcolm Elementary School, will complete her 37th year working in education and with Charles County Public Schools. From the start of her career, Pugh has worked with the youngest public school learners, focusing her time and talents at the elementary-school level. She leads by example and is well known by the Malcolm community as a kind leader who puts the needs of children first.
One of her goals as principal is to ensure all students and staff feel a sense of belonging to the Malcolm family. Pugh is often heard saying "Once a Malcolm family member, always a Malcolm family member" to new staff members and families that enter the school doors. She is well respected by the school community; students are eager to see her in the morning upon arrival and staff describe her as a person with "a heart of gold."
Pugh is so highly regarded by her staff that they surprised her with a nomination for recognition as an exemplary principal. They see her passion for education and others do, too. Pugh was recently named the Charles County Public Schools 2017 Principal of the Year and finalist for the Washington Post's Principal of the Year awards program.
Pugh is humbled to receive a recognition that honors her commitment to children. "At Malcolm, we are 'all in' every day for every student. Every day I strive to make positive connections with the staff and students. My staff worked behind the scenes to nominate me. It is both humbling and an honor to know that the staff, students and community felt I was deserving of the recognition," Pugh said.
Pugh was named principal at Malcolm in 2008 and quickly began to create a welcoming and supportive culture. She is a visible leader; she regularly visits classrooms to interact with students and teachers, attends after school, evening and weekend events, and works diligently to get to know each of her students. Staff admire her ability to connect with all students as Pugh strives to find the good in every child.
Jennifer Malone is a reading resource teacher at Malcolm and has worked with Pugh for the past nine years. Malone said Pugh's efforts to motivate students and staff are endless, and she admires her ability to create and support an exceptional learning environment for students.
"Any successful school always begins with outstanding leadership. Malcolm Elementary is one of those successful schools. Mrs. Pugh has created an exceptional learning environment through her vision, respect for and commitment to learning, and emphasis on communication for students, staff and parents. Her tireless dedication and caring for her school, staff and students is inspiring," Malone wrote in a letter of support for Pugh's nomination.
There are about 70 staff members at Malcolm and nearly 430 students enrolled at the school. Pugh leads with poise, compassion and efficiency. She encourages creativity and innovation by encouraging students to grow and learn.
Under Pugh's leadership, special area teachers work with their peers to help support reading and math skills in the classroom. During their physical education classes, students are often practicing math facts during exercise periods. Fifth graders in need of additional reading assistance are paired with kindergarten students to help them practice phonics skills. Teachers have access to a FlexCat technology system that enables them to listen simultaneously to several groups of students during small group discussions. Pugh encourages staff collaboration in all areas, not just reading, writing and math.
Pugh sets high expectations for staff and models a positive attitude and demeanor that staff admire. She regularly provides professional development opportunities, is an open communicator with staff and makes time to listen to suggestions and concerns. Pugh motivates staff to share in the decision-making process and implements changes when necessary for student achievement.
Malcolm teacher Angie Sidney and Lori Gould, an instructional assistant, co-wrote a letter in support of Pugh's nomination that details her commitment to ensure all teachers have the tools necessary to achieve success in the classroom. "Mrs. Pugh ensures teachers have the necessary instructional tools, pertinent training and essential knowledge to achieve success in the classroom. She is a wonderful role model, always greets us with a smile and is available whenever we need assistance," Sidney and Gould wrote.
Pugh's nomination also was heavily supported by parents and students. In the dozens of letters written for Pugh's nomination, students describe Pugh as a kind and caring principal. Malcolm fourth grader Kailani Meade said Pugh is the "best principal in the galaxy" because she is selfless and thinks of others. "She is always encouraging us to do our best," Meade added.
Malcom fifth grader Jose Jimenez said students like Mrs. Pugh because she makes learning fun. Pugh reads to students during Book Character Day and joins in the fun by dressing up as a book character. She also takes part in school spirit events, such as wearing pajamas to school and participating in wellness walks. "Mrs. Pugh is like us – she likes to do fun things. She lets us have extra recess for being good and Field Day. She is always out there with us on Field Day," Jimenez wrote in his nomination letter.
Crystal Rennie has a first grader enrolled at Malcolm and said from the moment her child was enrolled at Malcolm, Pugh has demonstrated nothing but enthusiasm for learning, compassion for students and a commitment to excellence. Pugh makes time to speak with parents and exudes a positive attitude in all that she does. "She exudes the character of a leader to students and something they can emulate. Mrs. Pugh has set the bar extremely high for future principals my child will have," Rennie wrote in a nomination letter.
Pugh credits the support of Malcolm staff and her leadership experience prior to becoming a principal as reasons behind the success of her school. "It is a joy to work with such a supportive staff. Teachers are comfortable sharing their concerns and know that their opinions count. The opportunity to work with diverse populations prior to becoming a principal was great preparation," Pugh said.
Pugh's career with CCPS spans experience at several elementary schools. She first started her career as a speech/language pathologist, a position she held for nearly 18 years. She completed an administrative assistant position at C. Paul Barnhart Elementary School and was named vice principal at Dr. Samuel A. Mudd Elementary School in 1998. Prior to being named principal at Malcolm, Pugh also served as a vice principal at Dr. Thomas L. Higdon and Daniel of St. Thomas Jenifer elementary schools.
As the 2017 Charles County Public Schools Principal of the Year, Pugh will be honored by the Board of Education at its May 9 meeting. Pugh was also the finalist from Charles County in the Post's Principal of the Year awards program in which one regional winner is chosen. She will be honored by the Post later this year.