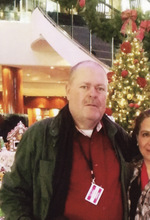 Paul Stephen Damron, 57, of Lexington Park, MD formerly from Wyandotte, MI passed away on April 20, 2017 in Lexington Park, MD. Born on April 6, 2017 in Wayne, MI, he was the son of the late Frank and Mirrian Damron. Paul was the loving husband of Erlinda Lauderes Damron, whom he married on October 13, 1999 in Hopkinsville, KY. Paul is survived by his children: Ereneo Damron, Christian Damron, and Florencia Damron all of Lexington Park, MD, Paula Damron of MI, and 2 grandchildren. Siblings: Tom Damron, Matthew Damron, Jeff Damron, Dwight Damron, and Benritte Damron. He received his GED in 2012 from Great Mills High School. Paul owned and operated D & S Home Improvement and Contracting, LLC in Lexington Park, MD and was active in the Wounded Warrior Charity.
The family will receive friends on Friday, April 28, 2017 from 5:00 PM – 7:00 PM in the Mattingley-Gardiner Funeral Home Leonardtown, MD. A Funeral Service will follow in the Funeral Home Chapel at 7:00 Pm with Father Paul Nguyen officiating. Interment will be private.
Contributions may be made to Hospice of St. Mary's P.O. Box 625 Leonardtown, MD 20650.