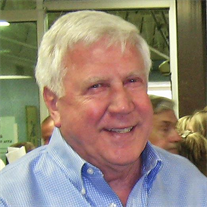 Carroll "Chuck" Edwin Rawlings, 75 of Waldorf, MD passed away on April 22, 2017 at his residence, surrounded by his loving family.
Chuck was born on May 10, 1941 in Washington, DC to the late Robert Edwin and Louise Fannie (Everhart) Rawlings.
He was the CEO/Co-Owner of TBN Associates, Inc. a mechanical insulation and asbestos abatement company. He started at General Insulation (which merged with TBN) as a truck driver, then he moved up to estimator, and eventually bought into the company. He was with TBN for 50 years. He was dedicated to his company and loved working. Chuck served in the United States Air Force. He liked to travel and loved spending time with his family in the Outer Banks, NC. He enjoyed gardening of all kinds; vegetables, plants, trees and flowers.
In addition to his parents, he is predeceased by one brother, Robert Rawlings.
He is survived by his loving wife of 56 years, Barbara Winifred (West) Rawlings, one son Mark Rawlings, one daughter Karen Perna and her husband Robert, three grandchildren Kelly and Nicholas Perna, and Cindy Rawlings, and one brother Michael Rawlings.
Family and friends received on Saturday, April 29, 2017 at Raymond Funeral Service, P.A., 5635 Washington Ave, La Plata, MD 20646 from 1:00PM until time of Memorial Service at 3:00PM.
Memorial contributions are requested to the American Cancer Society, PO Box 22718, Oklahoma City, OK 73123-1718