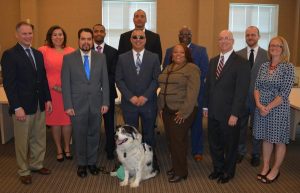 Eight Naval Air Systems Command Logistics developmental employees graduated from their development programs here April 13, joining the ranks of acquisition professionals.  The graduates included seven from the Naval Acquisition Development Program and one from the Engineer and Scientist Development Program.
"We have a very talented group of folks who aren't going to start contributing; they have been contributing since the day they showed up," said Todd Balazs, deputy commander of NAVAIR Logistics and Industrial Operations (Air 6.0). "With everything that is going on in the world, these are the type of people we need on the job now."
Balazs said he recently heard the Chief of Naval Operations Adm. John Richardson speak and the CNO said there is no room for being No. 2, and No. 2 is like being No. 100.
"We need to be No. 1 and there's no security in that we will always be first," Balazs said. "We're going to be No. 1 because of people like you on the job, so I want to thank you for your service."
Roy Harris, NAVAIR aviation readiness and resource analysis director, praised the graduates for their hard work.   "Today marks a big milestone in your careers," Harris said. "It really shows the commitment that you have made to get where you are today."
The NADP graduates are David Boniche, Donald Hayes, Marsha Kowlessar, Lovell Lee, Dustin Neill, Joe Quiles, and Tiffany Smith. The ESDP graduate is Kenneth Green.
Quiles, a retired Army veteran and a Wounded Warrior, uses a service dog named Bella. Because Bella was with him throughout the program, Balazs presented her with an honorary graduate certificate.
The group comes from a variety of backgrounds. Green spent 14 years as an educator and earned a master's degree in mathematics; Boniche has a master's degree in agricultural and biological engineering as well as a master's degree in public health; Neill earned a master's degree in physics.
Lee said he followed his wife to Patuxent River, retired Senior Chief Petty Officer Stephanie Lee who is now a civilian logistics management specialist for Commander, Fleet Readiness Centers, and spoke about why he applied to the NADP.
"I really enjoyed our conversations and I thought, "I could do that. I want to do that," he said.
Smith has a degree in chemical engineering, while Hayes' degree is in mechanical engineering. Kowlessar formerly worked with F-14s and Fleet Readiness Center Aviation Support Equipment before joining NADP.
Tracy Burruss, NAVAIR industrial and logistics planning/sustainment department director, echoed Harris' remarks.
"I'm listening to your stories, I'm incredibly impressed with the caliber of people we have in (Air) 6.0," she said. "Now that you have graduated, it's time to give back and teach those behind you."
Both the NADP and ESDP programs are designed to develop entry level employees into highly skilled professionals.  These programs provide a structured, systematic career development process that affords them the opportunity for rapid advancement and career broadening assignments.