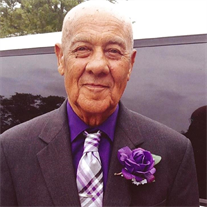 Thomas Dona "Don" Proctor, Sr. passed at the age of 85 at his residence in Pomfret, Maryland on April 27, 2017. Thomas was born on Sunday, October 25, 1931 in Bel Alton, MD to the late Clements and Mary Alberta (Harley) Proctor. On May 17, 1958, he married his sweetheart, Anna Theresa Proctor and celebrated 58 wonderful years of marriage.
They had four children Anna Marie Thompson, Thomas Dona Proctor, Jr. (Patricia), Angela Suzette Proctor (Antoine) and Timothy Maurice Proctor (Yvonne). He worked on the family farm for many years marriage then worked as a Concrete Finisher for 50 years before he retired. He enjoyed taking care of his children, growing fruit and vegetables in the garden, yard work, camping with his family while feeding the ducks and birds. He also had a special place in his heart for his dogs, especially Casper. His favorite saying was, "Don't do what I do, do what I tell you to do".
Don always had encouraging advice by telling everyone to do their best in life, be smart, make good decisions and if can't say anything nice, don't say anything at all.
Thomas was preceded in death by his parents, Clements and Mary Alberta, three sisters Elizabeth Gertrude, Elaine Lydia, Mary Burnell and four brothers John Maxwell, Thomas Vincent, Thomas Lindbergh, Paul Otis.
He leaves behind to mourn his wife Anna Theresa, four brothers Joseph Sterling, John Melvin, John Clements, James Hilton (Brenda), two sisters Virgie Regina and Elizabeth Hazel (Mervyn), ten nephews, five nieces, eight grandchildren, one great grandchild and a host of relatives and friends.
Friends received on Thursday, May 4, 2017 from 9:30AM until time of Mass of Christian Burial at 11AM at St. Ignatius Chapel Point Catholic Church, 8855 Chapel Point Road, Port Tobacco, MD 20677. Interment to follow in church cemetery.