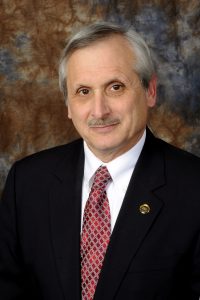 The College of Southern Maryland (CSM) will recognize candidates for degrees and certificates during its 58th Annual Spring Commencement Ceremony May 18 at the La Plata Campus. CSM President Dr. Bradley Gottfried, who will be retiring at the end of June after 11 years of leading the college, will provide the keynote address.
Appointed CSM's fourth president in 2006, Gottfried has had a significant impact on the college, including expanding the college with a Regional Hughesville Campus, increasing CSM's partnerships and articulations and keeping higher education affordable and accessible.
As president, Gottfried has been lauded by CSM's Board of Trustees for his passion to provide high-quality education that is accessible, affordable and flexible for all students and the community. "Much of CSM's success can be attributed to Dr. Gottfried's passion for lifelong learning and his embrace of the college's role within the community," CSM Board of Trustees Chair Dorothea Holt Smith said. "Through his leadership, he promotes an inclusive culture where everyone is encouraged to have a role in the college's success. Dr. Gottfried's leadership has resulted in many beneficial partnership opportunities, from articulations with four-year institutions, to collaborations with local and national agencies, to increased advocacy with local, state and federal elected officials."
In addition to creating a centralized presence with the Regional Hughesville Campus, Gottfried has worked to expand accessibility to higher education within Southern Maryland by enhancing dual enrollment programs for high school students and pursuing partnerships with universities and colleges. His leadership has led to a record number of graduates due to the college's focus on student success as well as more than 50 guaranteed articulation agreements with colleges and universities to enable students to easily transfer and pursue bachelor degrees. He has effectively partnered with the public school systems in Calvert, Charles and St. Mary's counties to better serve students of all ages.
To enhance the region's economic development, Gottfried has worked with the community's businesses to address their needs and critical shortages. CSM has helped put Southern Marylanders to work by launching new programs in Cybersecurity, Nuclear Engineering Technology, Robotics, Medical Laboratory Technology, Digital Media Production and the trades.
CSM has experienced growth with new facilities on all of the campuses including a Wellness and Aquatics Center at the Leonardtown Campus, a second building at the Prince Frederick Campus and renovations that expanded facilities at the La Plata Campus, including the Business Building and Community Education Building.
Under his leadership, CSM successfully completed its five-year Periodic Review and 10-year Middle States Regional Association accreditation, embraced a culture of Quality Improvement with strategic planning, outcomes assessment and process improvement, and is recognized as an outstanding employer by managing a diverse workforce with innovative training, promotion opportunities and wellness initiatives while offering an attractive and affordable fringe benefits package.
Among Gottfried's community-based initiatives are the Nonprofit Institute at CSM to strengthen region's nonprofit organizations and the Diversity Institute of Charles County, which promotes a culture of inclusiveness and understanding in a rapidly changing community. Recognizing the need to nurture the region's entrepreneurs and innovators, the Entrepreneur and Innovation Institute complements the array of business programs already offered at the college through the Small Business Development Center and the network of CSM institutes designed to help the college build relationships with local businesses and organizations.
Upon Gottfried's arrival to CSM, the college had its first major gifts campaign, exceeding its goal and raising $7.7 million. He and his wife, Linda, invest in both an annual and an endowed scholarship fund at CSM every year, and now as part of the college's $10-million Impact Campaign, they have made a leadership gift of $110,000 in cash and a deferred gift to the CSM Foundation that reflects their passion for education. Of their gift, $10,000 is directed to their annual scholarship with the remainder to be directed to the Bradley and Linda Gottfried Endowment Fund as part of their Living Trust to the CSM Foundation.
Gottfried received his doctorate in zoology from Miami University in 1976. He served as a faculty member and a chief academic officer for many years before becoming president of Sussex County Community College in 2000. His strengths are in strategic planning and assessment of institutional effectiveness, fundraising and academic program development. Gottfried is also an historian and author specializing in the Civil War.
Since announcing in early September his plans to retire as of June 30, Gottfried has commented frequently on the "bittersweet" aspect of leaving a job where he was so invested and now preparing to move in another direction. "I'll be watching how things go," he said at a state-of-the-college address in March to CSM staff. "I'll be your biggest supporter. I think the future is very, very bright moving forward."
CSM's spring commencement activities will begin with a National Society of Leadership and Success induction ceremony at 4 p.m., May 17, at the Center of Business and Industry (BI) Building, Room 113/113E at the La Plata Campus.
A nurses' recognition program will be held at 1 p.m., May 18 in the Physical Education (PE) Building, with a reception immediately following on the upper level.
The college's commencement ceremony will begin at 6 p.m., May 18 on the Administration Building (AD) lawn. A reception will follow the ceremony in BI Building, Room BI-113/113E. Rain location for commencement is the PE Building and tickets are required. Students have been provided tickets for guests to use in the event of inclement weather. Whether the ceremony is held inside or out, overflow seating will be available in the Fine Arts Center (FA) where guests may watch the ceremony via broadcast in the Fine Arts Theatre.
While administrative offices will be closed during commencement at the La Plata Campus, the buildings will be open and facilities will be available for guests and graduates. The La Plata Campus College Store will be open until 7:30 p.m. A bookstore tent will have flowers, balloons and refreshments for sale.
Normal operations will continue at CSM's other campuses.
The safety of CSM students, guests and employees is of utmost importance. CSM will conduct bag checks at commencement, and all individuals may be subject to a bag check before entry. CSM Public Safety officials encourage guests to leave large secondary bags, diaper bags and backpacks in their vehicles or at home as these will be subject to the bag check process.
Please note that CSM is a smoke-free campus. All tobacco and vapor-producing products are prohibited everywhere on CSM property, including all parking lots and in personal vehicles.
CSM's campuses are accessible to patrons with disabilities. Sign language interpretation for the hearing impaired will be available at commencement. Guests who require additional assistance are asked to contact the academic support/ADA coordinator at 301-934-7614 or [email protected].
For information on commencement, email [email protected] or visit http://www.csmd.edu/commencement.