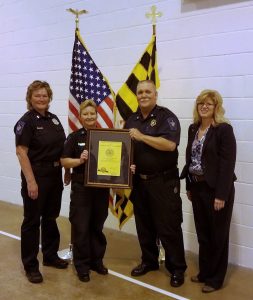 On Thursday, May 4, Assistant Sheriff Major Michael Merican along with Captain Deborah L. Diedrich, Acting Division Commander, Captain Denise E. Mohun-Hintze, Operations, and Mary Ann Thompson, Support Services Administrator, presented the plaque for 100 percent State Standards Compliance to staff at the St. Mary's County Detention Center.
During the presentation, Merican, previously the warden of the jail, expressed his gratitude to the staff.
"This is presented to you…you have earned this," Merican said. "Here's your report card, the gold ring you reach for, and I thank you for your dedication and commitment."
Not only was today about a celebration of earning a 100 percent compliance, but it was also about appreciating the hard work performed by everyone at the St. Mary's County Detention Center, both civilians, and correctional officers, every day. May 7 through May 13 is National Correctional Officers Appreciation Week, and the leaders of the jail organized an appreciation luncheon for the staff to show their gratitude.
"One of the greatest challenges correctional officers face is the problems and stress they encounter on a daily basis," said Diedrich, Interim Warden. "Working in the detention center is demanding, and correctional officers are in a heightened state of vigilance all the time. Their work is important, and I am so proud of them for exceeding the Maryland Commission on Correctional Standards (MCCS) while simultaneously protecting the public."
From Tuesday, August 23, 2016, to Thursday, August 25, 2016, the St. Mary's County Detention Center was audited by the Maryland Commission on Correctional Standards. At the conclusion of the audit, the MCCS audit results were a recommendation for 100 percent compliance.
Receiving a 100 percent compliance with the standards confirms the St. Mary's County Detention Center has not only met the standards but exceeded the expectation to foster public safety, staff welfare, and inmate well-being.
On Thursday, January 26, 2017, the audit report was heard at the Commission Meeting at the Jessup Correctional Institute in Jessup, Maryland. At that time, the MCCS presented Merican, Diedrich, Mohun-Hintze, and Thompson a Recognition of Achievement Award for 100 percent Compliance of Standards for an Adult Correctional Facility.
This is the fourth audit cycle where the St. Mary's County Detention Center has earned a 100 percent compliance.
MCCS is an administrative agency within the State of Maryland Department of Public Safety and Correctional Services that was established by Act of the 1980 General Assembly. The enabling legislation is codified as Article 41, Section 4-401 of the Annotated Code. The MCCS conducts regular formal audits of every state, local and private adult place of confinement to determine applicable regulations promulgated by the Secretary of the Department of Public Safety. A primary goal of the agency is to facilitate complete compliance with the standards.