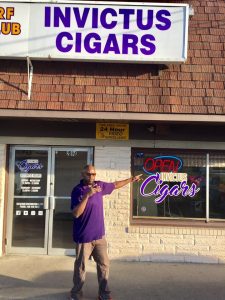 Investigators from the Maryland State Fire Marshal's Office have concluded another lengthy investigation into the unpermitted use of a nightclub establishment in Waldorf. Invictus Cigars, located at 2894 Old Washington Road, has been operating in violation of the Life Safety and Fire Code. The owner, identified as Malcolm L. Hill (42), has been charged with Reckless Endangerment and the Maintenance of a Fire Hazard in violation of the Maryland Public Safety Article.
Over the past few months, investigators worked closely with Charles County's Planning and Growth Management to identify the appropriate requirements for use of the building as requested by the business owner, who initially requested a permit to operate the business for retail sales. At some point later, Hill requested to use the building as a lounge/bar which did not meet those Fire and Life Safety Code requirements. Despite knowing the building did not meet the fire and life safety requirements, Mr. Hill failed to follow the proper use and hosted an unapproved event. As a result the Use & Occupancy permit for Invictus Cigars was revoked by the Charles County Government on April 11th. Mr. Hill was able to get his Use & Occupancy permit back under the retail restrictions, but on April 21st, Mr. Hill was found to be operating the establishment for a nightclub style event. Investigators ordered the establishment to be evacuated and closed immediately. The Charles County Sheriff's Office assisted with the closure of the facility.
The illegal operation and blatant disregard for the fire and life safety code requirements placed Invictus Cigar's customers and employees at risk for a potentially dangerous environment. History shows that nightclub assemblies pose many potential risks to the occupants. For this reason, the Office of the State Fire Marshal is dedicated to enforcing those code requirements to help minimize those risks.