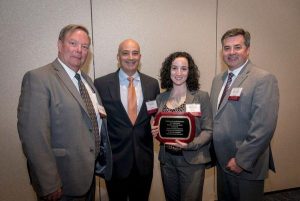 CAREERS & the disABLED magazine named NAVAIR as the 2017 Public-Sector Employer of the Year for its commitment to recruiting, hiring and promoting people with disabilities at a ceremony in Boston April 20.
Steve Nickle, director for Air ASW, Assault and Special Missions Programs Contracts Department, accepted the award on behalf of NAVAIR at the magazine's 25th annual awards reception and dinner.
"While this may be an employer award that we are recognizing this evening, this recognition is truly a testament to our teammates with disabilities; they bring their individual talents and their valuable perspectives to the NAVAIR team, offering creative and innovative solutions to the challenges that we face each and every day in support of our Navy and Marine Corps," he said. "It truly underscores our belief that through an inclusively diverse workforce, we will be more effective in meeting our mission and in achieving our goals."
In addition to winning the Public-Sector Employer of the Year Award, NAVAIR also placed ninth in the magazine's list of "2017 Readers' Choice: Top 20 Government Employers."
"We encourage employers and recruiters to make a commitment," said John Miller, chairman and CEO of Equal Opportunity Publications Inc., which publishes the magazine. "The employers being recognized tonight have gone beyond 'what if.' We must continue to try to get rid of 'what ifs' and transfer them to meaningful employment."
As of March 2017, NAVAIR has 201 individuals with targeted disabilities on board and more than 2,700 disabled veterans on board.
NAVAIR's Individuals with Disabilities Advisory Team, established in 2004, works to support the retention, recruitment, professional development and advancement of individuals with disabilities, wounded warriors and individuals with targeted disabilities. To date, the team has updated NAVAIR's supervisory training, identified recruiting outreach strategies, encouraged employees to self-identify their disabilities voluntarily and confidentially and has explored accessibility improvements to facilities across various NAVAIR sites.
NAVAIR also hosts annual National Disability Employment Awareness Month activities, offers veteran and wounded warrior support groups, hosts meet-and-greets and diversity recruitment campaigns aimed at hiring qualified individuals with disabilities, provides assistive technology training and partners with local disability and diversity organizations, among other initiatives.
"NAVAIR's Individuals with Disabilities Advisory Team brings together employees from all backgrounds, experience levels and locations in order to achieve a single mission: to tackle barriers in our policies, procedures and practices that may preclude individuals with disabilities from full participation in the workforce," said Janna Roberts, the team's human resources adviser. "Disability is not always a condition that someone is born with; through the natural aging process, a traumatic experience or even a car accident, disability can impact anyone's life at any time. The team understands this and works diligently to ensure all employees, regardless of disability status, are given equal access to challenging work and opportunities at NAVAIR."