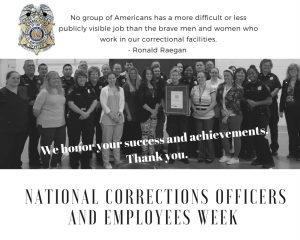 Please join us in recognizing and congratulating the St. Mary's County Adult Detention Center Correctional Officers and staff for the demanding work they do each day. Working in the detention center is demanding, and correctional officers are in a heightened state of vigilance all the time.
We extend our most genuine gratitude for your service to the country, community, and the corrections profession.
On May 5, 1984, President Ronald Reagan issued Proclamation 5187, National Correctional Officers' Week, in which he called "upon officials of State and local governments and the people of the United States to observe this week with appropriate ceremonies and
activities," to recognize "the contributions of correctional officers to our Nation."
President Reagan was the first president to formally recognize the great work of those in the corrections profession and the very difficult, and at times dangerous, nature of corrections work. He wrote that correctional officers are "essential to the day-to-day operations of these institutions; without them, it would be impossible to achieve the foremost institutional goals of security and control."
Corrections professionals know all too well the risks and challenges associated with the work they do, but they still show up every day to honor the commitment they made to protect the community they serve.
From Sheriff Cameron, your brothers and sisters at the #SMCSO, and the community — THANK YOU.